Tired of having your servos shaking mid project? Want to manage more servos simultaneously? Use the Multiservo Shield and you can forget about all of these problems, and maybe fix some you didn't even realize yet.
By installing this shield on your Arduino you will be able to drive 18 servos. On the Multiservo Shield a separate microcontroller, the ATmega48, helps to manage your servos accurately and precisely. This ensures that control signals will be transmited to the connected servos exactly when you need. Using the Multiservo Shield, you can create multi-joint robots, automated bartenders, and other interesting things.
The sheild also helps to mitigate the jitter of the servos at arbitrary times, as it is prone to do when using the standard Servo library.
Communication with Arduino is carried out via the I²C bus. That means only 2 pins are used. Therefore, even with the simultaneous use of 18 servos, all of the Arduino pins will remain free.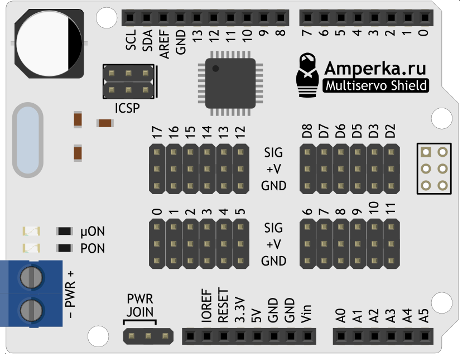 The power for the motors is fed through a screw terminal block. From the terminal block, the voltage moves towards the corresponding pins in triples-contacts over thick tracks. You just need to connect your servos to these contacts, no additional wiring is required.
The power for the ATmega48 is taken from the 5V pin on the Arduino. You can install a special jumper in the "PWR JOIN" position to send power from the screw terminal board. Therefore, you really only need a single power source.
The library Multiservo is a worry free method to work with this shield. The interface of the Multiservo library is the same as in the standard Servo library.
In addition to the 18 servo-triples controlled by the dedicated microcontroller, 6 Arduino leads are wired to the board directly. Thus, the possible the number of servos on your device can be up to 24.
Specifications
Maximum DC for Servos: 10 A
Interface: I²C
Number of Servos: 18 via I²C, 6 via Arduino
Microcontroller Current Draw: 15 mA
Operating Range: -40 to +85 °C
Compatibility
The Multiservo Shield is compatible with all Arduino boards that operate at 5 volts.
References