This screw shield is an expansion for your Arduino or Iskra to connect devices that do not have suitable connectors. A soldering iron is not needed, one can simply clean the wires, insert them into the terminal, and screw them in.
The board is compatible with Arduino form-factor devices, but it is wider than the usual form factor by 24 mm due to the screw terminals.
On top of the screw shield, you can install other expansion boards or even a Troyka module.
Pinout
There are screw terminals on the perimeter that duplicate all the pins of the main board, additional double terminals (3.3V, 5V, GND), and SPI interface terminals.
On the front of the board there are holes for soldering PLS pin connectors or screw terminals. These can be connected to any Arduino terminal.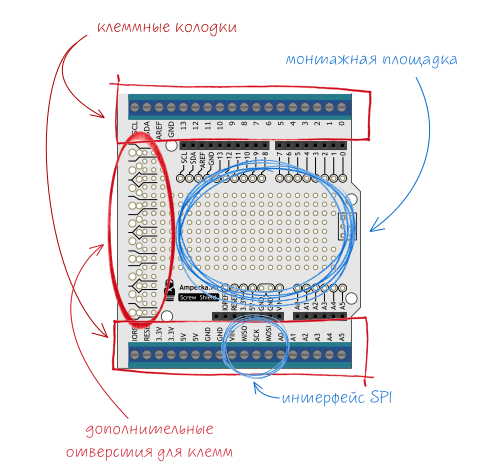 Mounting Platform
In the center of the board is an empty platform with holes for prototyping the output components via soldering.
The size of the platform is such that a breadboard mini can fit onto it. The breadboard mini can be fixed to the platform using its self-adhesive base.
Using the breadboard mini you can create a universal "hub" for connecting devices and conventional output components like transistors, resistors, LEDs, and chips.
Mechanical Compatibility
To install the Troyka Slot Shield on boards with a tall metal connector such as an Ethernet Shield or Arduino Uno, we suggest using stackable pin headers.
If you install a Troyka Shield on top of screw shield, you will be able to utilize every module effectively.
This screw shield can be installed on both an Arduino Uno and on long boards such as the Arduino Mega. While it will fit on the Arduino Mega, for boards of this size we recommend using the Troyka Mega Tail Shield.