This is a small keyboard with 16 buttons made of rubberized material. The back side is self-adhesive which makes it easy to affix.
Sometimes there are projects that need multiple buttons. To avoid messy wiring and free up controller pins, matrix keypads are here to help. These buttons are sealed, flexible, and durable. They are water resitant, heat resistant, and can withstand a million clicks.
Connection is carried out using a single cable leaving the panel with 8 wires. At the end of each cable is a standard female connector (2.54 mm, 0.1"). This means that you can easily connect to any control electronics using a breadboard or pin headers.
Schematic Diagram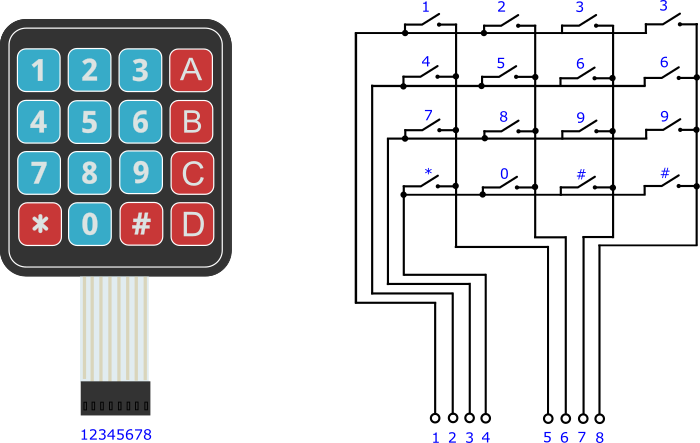 When applying voltage on one wire from the first four and looking for this signal on the wires of the second four, it is possible to determine which buttons in a certain group are being pressed at the moment.
Specifications
Dimensions: 68 × 77 × 0.8 mm (2.67" x 3.03" x 0.0314")
Operating Voltage: < 12 V
Maximum Current: 100mA
Insulation resistance: > 100 MΩ
Contact Resistance: < 200 ohm
Contact Bounce: < 5ms
Tested to: 1 Million Clicks
Operating Temperature: 0°C to +70°C (32°F to 158°F)
Humidity Limits: 90% - 95%, 240 hours
Weight: 10 g