This servo allows you to set and hold the angle of rotation of a wheel. The drive has an angle of rotation of 180°; it can be set to any position within a semicircle.
The "micro" size is useful when the size and weight of your motor are important.
Included with the servo is a set of fasteners and plastic arms.
This servo can be connected directly to your microcontroller, without a power driver. To do this, you need these three wires:
Red - Power
Brown - Ground
Yellow - Signal (connects to the microcontroller's digital output)
To connect to an Arduino it would be convenient to use a Troyka Shield. In order to control the servo you should use the standard Servo library. If you want to simultaneously and accurately control multiple servos, but don't want to use many pins, try the Multiservo Shield instead of the Troyka Shield.
Dimensional drawing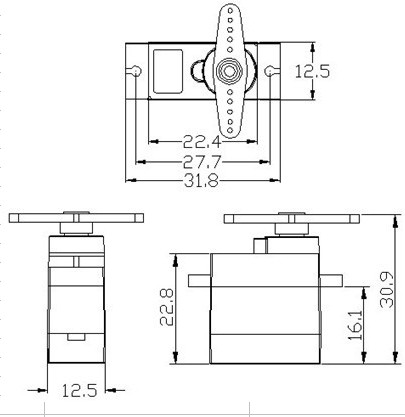 Specifications
Rotation Range: 180°
Power Supply: 4.8–6 V
Torque: 1.3 kg·cm (18 oz·in) at 4.8 V
Rotation Speed: 60° for 0.12 seconds at 4.8 V
Current Draw: 200 mA (max. 500 mA)
Internal Interface: Analog
Gear Material: Nylon
Case material: Plastic
Dimensions: 23.2 × 12.5 × 22 mm
Weight: 9 g