Do you want to take your ideas from your notebook to the real world? Do you need a professional display for your electronics? Look no further! Use the Troyka Perfbord, the ideal board for soldering your prototypes!
The Troyka Perfboard is an easily accessable board built for for prototyping. The board has 72 standard sized tin soldered holes.
The distance between the holes is a 2.54 mm. This means that you can install most standard components with extra contacts.
Twelve holes are combined in pairs. This grouping will help to solder your components to allow for easier contact. The other sixty are not connected, so the layout of the module is limited only by your imagination.
The perfboard has standard sizes and mounting points for Troyka-modules. It will look and fit well next to other Tryoka modules.
Schematic Diagram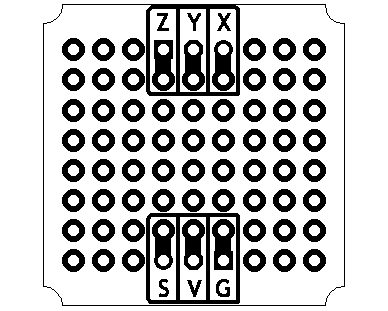 Specifications
Dimensions: 25.4 × 25.4 mm (1 × 1 in)
Number of Soldering Points: 72