Does your project need a Troyka module that we haven't made yet? Make it yourself! Use the necessary components with the Troyka Protoboard and solder. Use pin headers as legs and your own custom, unique module is ready for action!
The Troyka Protoboard is a single-unit module for prototyping your ideas. The board has seventy-two standard tin soldered holes which we combined into groups of three and four. Undersanding the switching scheme will help you to silk-screen print later on.
The distance between the holes is 2.54 mm which means that there will be no problem installing standard sized components or modules.
Protoboard has standard and Troyka modules dimensions and mounting areas. It will fit perfectly next to any of our modules.
Schematic Diagram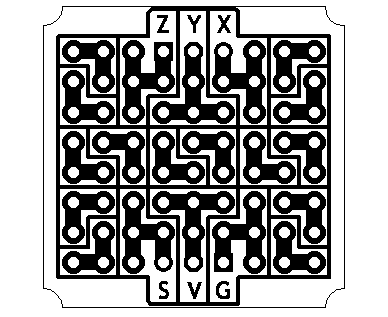 Specifications
Dimensions: 25.4 × 25.4 mm (1 × 1 in)
Number of Soldering Points: 72 (20 groups)